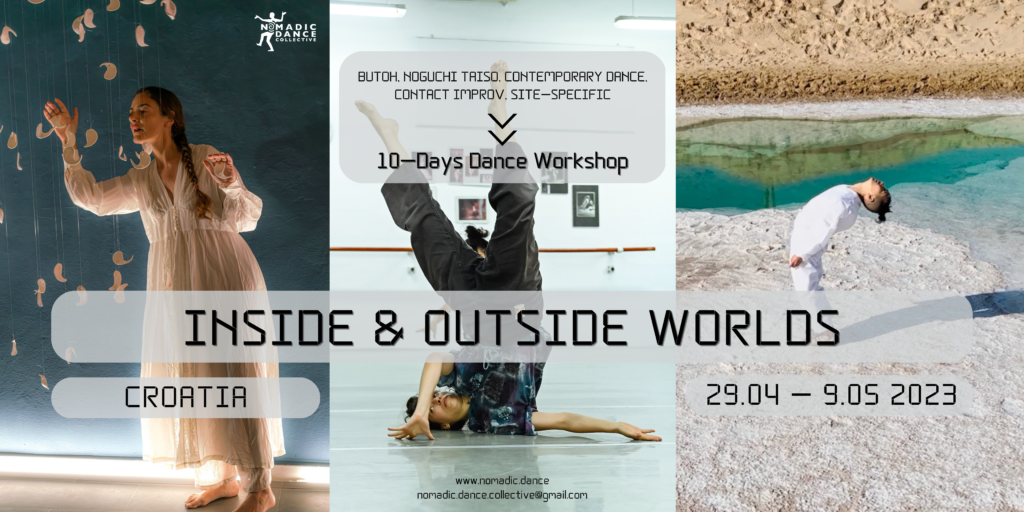 Join us for a 10-day movement workshop, a resonance between the inside and the outside world.
Nomadic Dance Collective shares the creative process of three different dance forms to connect deeply to the self and to search for our common ground in embodiment.
The program includes physical training classes in contemporary dance, contact improvisation, and Butoh.
These three different forms will offer us specific connection to the inside individual landscapes and different visions in relation to a site-specific approach.
In this way, we will also have movement exploration with the local environment from the fortress where we'll be hosted to the sea passing through the town of Sibenik.
Registration form:
https://forms.gle/JwUKf45P95qeSZA3A
FACILITATORS OF THE PROGRAMME
ALESSIA MALLARDO – KIORI KAWAI – CONCETTA CARIELLO
Alessia will present Butoh and Noguchi Taiso as means to explore inner spaces. Noguchi Taiso will be a valuable preparation to dance Butoh. In fact, this technique produces a state of muscular relaxation, where the body becomes as flexible and sinuous as water and the movements unintentional. In this state is possible to reach deep layers of the self and discover your own butoh dance.
Kiori will present Meditative Movement Practice that is based on observing breath and bodily sensations, placing awareness in every part of the body, and integrating this awareness with movement. She will use kinesthetic awareness as a conversation to explore the connection between self and environment in her Contact Improvisation/Improvisational movement classes.
Concetta will present a Contemporary Dance setting integrated with elements of somatic practices. This offers an intuitive space using a combination of improvisation, games, and set floorwork material starting from the conscious and attentive training of the body to then open the space up to the creative unfolding. In fact, this tuning-in quality and playfulness will then be transposed outdoors within the Archi-Humans Go Public frame of work, where we will explore the readiness and adaptability of the body-mind to the outside ever-changing environment and spaces.
(more info on the facilitators in the 'members' section of this site)
HOSTING VENUE
We will be hosted in the beautiful
Tvrđava Kulture Šibenik (Fortress of Culture)
https://www.tvrdjava-kulture.hr/
and
House of Arts Arsen
https://kucaarsen.hr/
PRICES
Workshop fee
450 euros – (10 full days)
400 euro – early bird price / registered and paid before Apr.4th
Accommodation fee
(10 nights)
320 euros for dormitory (4 people to share)
630 euros for double room (2 people )
1250 euros (single use)
Register at:
https://forms.gle/JwUKf45P95qeSZA3A
Contact
nomadic.dance.collective@gmail.com
DANCE WITH YOU SOON!