Black Sea Dance Residency in Georgia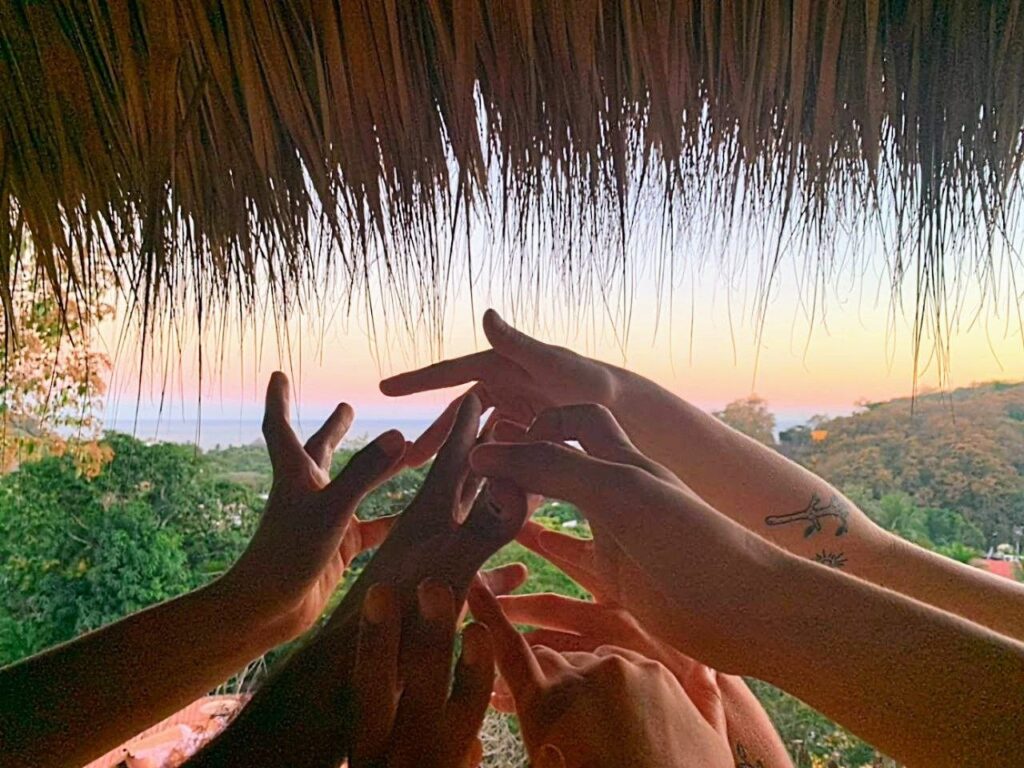 A month-long beach-area residency including workshops of Contact Improvisation, Contemporary Dance, Butoh and Yoga with dance/music jams.
APRIL 3 thru 30
Google maps link: https://goo.gl/maps/xKQHrE2usaZL3crD8
Facebook event: https://www.facebook.com/events/618106989498830
A Residency with 4 Guides
Nomadic Dance Collective uses the creative process of performance to connect deeply to the self and to search our embodied history through both body and mind. It was originally formed by three artists, Concetta Cariello (Italy), Kiori Kawai (Japan) and Adam Koan (USA), who will introduce a significant way towards the creative process in their field of expertise – Contemporary, Contact Improvisation and Butoh.
This time we have two additional members, Vanessa Isbert (Germany) and Salome Bakradze (Georgia) which will bring new elements of Yoga and Community building practices. Together, we aim to form a creative temporary community through collaboration within our different art practices.
The dance studio is a large 200 square meter padded space.
Residency Structure
Throughout the four weeks, we will have various focuses, creating a different atmosphere for each week.

Week 1
The focus will be on immersing ourselves in a healing-somatic-meditative state which will guide us into arriving and fully landing at the residency place, both physically and energetically. This is a space to connect deeply with ourselves, in an intimate and spiritual way, through yoga, chanting, breathwork, sound baths, authentic movement, and more practices that accompany us in a safe space.

Week 2
We will work and learn more about techniques and we will focus on training in the different dance forms offered by the facilitators, delving more into each of the techniques: butoh, contemporary dance, contact improvisation, yoga. This week will get more physical and sweaty!

Week 3
We will co-create together and enter a performative phase, exploring imagery and visualization within the individual and collective creative processes. This week will see more LABS, and scores, but also the exploration of the art of crafting the movement creation.

Week 4
Will offer a more open space for research and celebration with labs, ecstatic dance, scored and focused jams, where to connect more to the sense of community.

You are welcome to join the program for the whole month or for 3/2/1 week. And each week we will have one arrival day and one leaving day, so the group will be solid and together for the whole week.
All levels are welcome to join! We are looking forward to dance and share with you.
Location
The Residency will be hosted in Georgia (the country) in the beautiful venue situated directly on the beach, at Shekvetili Beach Hotel at 50min drive from the city of Batumi. Based on your wishes and needs, you will have available different options to book your accommodation in a dormitory, shared or single room.
Schedule
During the day, we will have yoga in the morning, 2 intensive dance classes, and programming in the evening. The schedule will be from Monday to Friday, with the weekend off.
Sample Mon thru Fri schedule:
| | |
| --- | --- |
| 08:00-09:00 | personal practice |
| 09:00-10:30 | breakfast |
| 10:30-13:00 | morning session |
| 13:00-15:00 | lunch + rest |
| 15:00-18:00 | afternoon session |
| 18:00-18:30 | sharing space/circle |
| 18:30-20:00 | dinner |
| 20:00-23:00 | evening activities |
Price
Including workshops, accommodation and meals
A. Dormitory (4 People)
B. Shared room (2 People)
C. Single room

EARLY BIRD Price (registered/paid before Feb.28th):
———– A —— B —- C —
1 week — 255€ – 305€ – 350€
2 weeks — 450€ – 560€ – 665€
3 weeks — 684€ – 840€ – 990€
4 weeks — 891€ – 1110€ – 1325€
Regular Price
———— A —— B —- C —
1 week —- 285€ – 335€ – 390€
2 weeks — 500€ – 620€ – 740€
3 weeks — 760€ – 930€ – 1100€
4 weeks — 990€ – 1230€ – 1470€
If you have any questions, contact us.